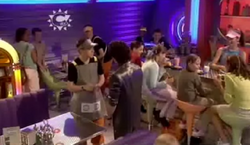 The Diner is a location in the "original" My Parents Are Aliens series, which is where the characters normally hanged out.
Andy 'the Freak' began working here as executive duty manager and enjoyed having power over his staff and ordering them about, even resorting to insults and name calling. In Series Seven Josh Barker works here along with other students for work experience, but having enough of Andy's controlling ways stands up to him, only to be taken away by Mr. Whiteside. But the other pupils jack in the work experience and leave Andy.
In an early series in the episode Fish Fingers Josh takes part in a contest that if he succeeds in a food eating competition he can name the diner. Despite winning the competition, Andy names it for him, calling it Greedy Barkers. However subsequent episodes never refer to the diner by this name, possibly indicating it was never kept.
Ad blocker interference detected!
Wikia is a free-to-use site that makes money from advertising. We have a modified experience for viewers using ad blockers

Wikia is not accessible if you've made further modifications. Remove the custom ad blocker rule(s) and the page will load as expected.