Melanie "Mel" Barker is the oldest of the Barker children.
Appearance
Edit
Mel dresses in a unique and unusual way (A lot of the time she dresses like a tomboy). She has green eyes and brown hair (sometimes with coloured hair extensions and braids) she also has her ears pierced. By her last appearance in "Thanks for all the earth worm custard" she has dyed her hair red.
Personality
Edit
Mel is a moody, sarcastic and feisty teenager with her top priority always being her brother and sister Josh Barker and Lucy Barker (And in the last episode of series 7 "Thanks for all the earthworm custard" makes it clear that Harry and CJ also count as her family) In the earlier seasons Mel showed more of a rebellious difficult attitude towards adults; due to the pain of losing her parents and being continuously moved to different foster homes (also being separated from Lucy and Josh) In the later seasons her rebellious attitude softens and she appears more mature. She behaves in a tough independent manner, however deep down she is a caring kind-hearted person and this shows in certain episodes.
"Oh I see, your the moody loner type who pretends that she doesn't want to be loved when in fact that's all she really wants" -Sophie Johnson ("Aliens go home")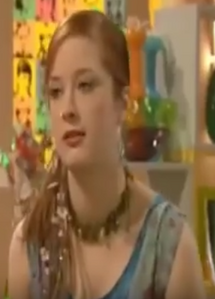 Biography
Edit
Series 1'
Edit
Although not appearing, she is referenced by Sophie before her and Brian's memory wipe.
Series 9: Comic Continuation
Edit
A decade since Brian and Sophie's departure, an older Mel is now a skilled photographer with a young daughter. She has since moved back to her former town with her siblings to await Brian and Sophie's return, but has since grown even more bitter and cynical, feeling that they have 'abandoned' them. At the start dated Frankie(Josh,s friend) but left leaving him a photo of her
Ad blocker interference detected!
Wikia is a free-to-use site that makes money from advertising. We have a modified experience for viewers using ad blockers

Wikia is not accessible if you've made further modifications. Remove the custom ad blocker rule(s) and the page will load as expected.